Northwest Center and Lithtex NW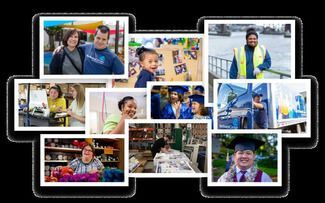 A Northwest Center Social Enterprise Business
Work with us to build an inclusive world. Lithtex NW funds programs for people with disabilities.
Lithtex NW is a Northwest Center social enterprise–a business that does good in the world. This means the top-quality printing services Lithtex NW delivers every day help fund programs that are building a more inclusive world for people of all abilities.
How? As a social enterprise, revenue from Lithtex NW funds Northwest Center's nonprofit services–from education to employment services for children and adults with disabilities. Lithtex NW and four other social enterprise businesses are central to Northwest Center's mission to create diverse schools and workplaces that benefit everyone. Because when people of all abilities learn and work together, everyone benefits.
Northwest Center has been leading work to create an inclusive world since 1965, when four mothers refused to accept that their children would be rejected from school and society. They founded Northwest Center, led the passage of landmark legislation that opened school doors to children with disabilities, and made history. Since then, Northwest Center has advanced equal opportunities for children and adults with disabilities, providing early support, early education, school-age programs, and employment services for adults with disabilities.
As a Northwest Center social enterprise, Lithtex NW embraces its approach to inclusive workplaces by hiring people with disabilities. It is simply good business. Research shows people with disabilities perform their jobs equal to or better than those without, and businesses report increased quality and efficiency.
Check out Northwest Center's other great social enterprises, which can serve your reuse and sustainability, building services, janitorial, and laundry needs. And don't forget about Lithtex NW's top-quality printing services.
The Big Blue Truck™ | (800) 992-2060 
Northwest Center's iconic Big Blue Trucks collect donations of used clothing, other textiles, and shoes. We sell donations to our partner, Value Village, and use revenue from those sales to support our programs for people with disabilities.
OneNorth Integrated Facility Solutions | 1-833-220-7083
OneNorth Integrated Facility Solutions provides expert janitorial and building services for leading commercial, retail, health care, government, and education organizations while employing an inclusive workforce. 
When all of us are allowed to engage and contribute, we all can reach our full potential.
Lithtex NW Mission
Our mission is to exceed your expectations by providing the highest-quality product possible in a timely manner. We want to help you achieve your goals.
Guiding Principles
We're proud of the strong roots we've built in our community. We pride ourselves on being a complete source for all of your business communications needs and have always been on the leading edge of technology. We understand that an investment in technology can actually save money by improving efficiencies.
We will continue to evolve as a diversely skilled, fast-moving team of professionals ready to learn from each other and meet whatever challenges our clients may face. We launched this cutting-edge website to make it easier for our clients to request estimates, place orders, check proofs, or transfer files online. We hope you find it as helpful as we do.